Discussion Starter
•
#1
•
Well figured it was time for me to make a journal of the history of my 08 DGM hatch. I purchased the car in feb of 08 after months of bull crap with my 05 SRT-4. Was getting pulled over all the time for my wing being to big or not having a muffler, SRT-4 came with no muffler! So after walking into one Subaru dealer and getting the cold shoulder due to them thinking i was not serious i walked out and headed 20 miles north to the next one, Drove home a few days later with my new car.
A few shots of P-Day. nice nose and even hotter ass.
Seems that i have a problem, i void warranties before i even buy a car. So i knew i was getting a WRX and had some extra $ so i bought a Cobb SS with bushings and a AP cold air intake. (at this point in time it wasnt really known that you needed to tune for cia's. a few pics of the goods.
So I was a member of 3gwrx before i bought the wrx, after some research and question asking (yes even the clammy was a noob at one point) I bought a Tsudo N1 Cat back, had it shipped to work i was so excited when it arrived!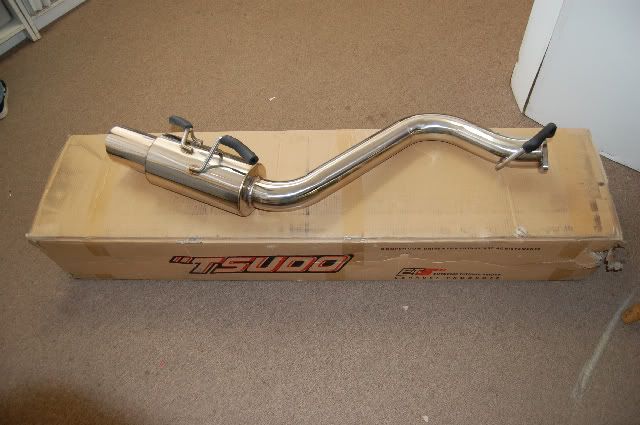 So im liking the car and the sound but craving more power. I give Perrin a call, end up ordering a Invidia DP and a AP, come to find out the DP is on back order. i like communication, Perrin was lacking at the time so i canceled my order for the DP and made a few calls, found the last Invidia DP in CT and had it shipped to me.
I got tired of the Dongle getting in the way of my giant feet on the AP so i hardwired the AP to the car
I also found a cell phone holder and mounted that as a AP holder.
I read an article on Carbon fiber fabric, thought it looked sweet so, I bought some and gave it a go.
I decided that it would be a good idea to see what my boost and a/f were at all the time so i bought a glowshift electric boost guage and a glowshift AF guage. (do not buy this garbage, they wouldnt even take a return due to there shityy guages not working right)