KpWRX's '08 WRX Build Journal! Brembo Conversion Installed

Brembo Conversion on Page 19


The "new" CUSCO bits page 12
New parts! page 7!!!!!!! New STi Seats, HVAC Controls, Shifter Trim and hazard button Page 6 New window vinyl rap on page 5

New SSR rims and rear DIY bumper mod on page 5


Better pic's of the '09 WRX grill on page 4 New pic's of my new '09 WRX grill page 3 5/12/10

NEW PIC"S ON PAGE 2

New pic and Video on page 2 10/16/09

Hey everyone!

I just found this site for our cars and I love it. I'm on a bunch of other Subaru sites as well. Here's a little history on my car.

Well, I bought my '08 WRX January 4, 2009. I went to test drive an '09 WRX and I was impressed. The salesman proceeded to tell me they have one '08 WRX left on the lot. I told the salesman that he would have to basically give the car to me if he thinks I'm going to take it. After about 2hrs of going back and forth, I walked out with a 100,000 mile warranty and the car for $18,241. I figured that I would be replacing most of the things that make '09 WRX what it is anyway. So, I bought it.

So, My goal is to have an sedan that will keep up with and STi. I'm also doing my best to make this car not look so plain. It also handled like a Cadillac, but with the suspension mods it now handles great. I'm not going too crazy with this car's engine because she is my DD. Onto the mods.

Engine mods:

1. Perrin intake

2. COBB AccessPort

3. Perrin Stage 2 Map

4. Invidia catted Down Pipe

5. SPT Cat-back exhaust

6. TurboXS 50/50 Hybrid BOV

Suspension:

1. BC Racing Coilovers

2. Rallitek Front 22mm sway bar

3. Rallitek Rear 19mm sway bar

4. Rallitek HD Front endlink

5. Rallitek HD Rear endlink

6. Cusco front upper strut bar

7. Cusco adjustable Lateral control arms

8. Whiteline Rear adjustable toe arms

9. Whiteline Anti-Lift/Caster kit

10. Whiteline Front Roll-Center/Bump-steer adjustment kit

Wheels:

1. SSR Type-Fs 18x8.5 +45 offset

2. Falken-912 245/40ZR18

Brakes:

1. 2006 STi Brembos

2. 2004 STi DBA Street-series Slotted Front rotors

3. 2008 STi DBA Street-series Slotted Rear rotors (Dual drilled 5x100/5x114.3)

4. Rear Brembo adapter brackets (fastwrx.com)

5. Grimmspeed Master cylinder brace

6. Technafit Stainless Steel Brake Lines

7. StopTech Front Brake Pads

8. StopTech Rear Brake Pads

Exterior:

1. Factory front lip

2. Factory fog lights

3. I painted the rear chrome piece on the trunk to match the car.

4. 50% tint front and 35% rear

5. '09 WRX Grill

6. DIY painted Flat Black rear diffuser

7. Vinyl Black overlay for chrome window trim

8. STi wing

Interior:

1. Pioneer AVH-P4400BH

2. Front DLS 6-1/2" 2-way Gothia Series Component System

3. Rear DLS 6-1/2" Reference Series 2-way Coaxial Car Speakers

4. Earthquake DBxi 12"

5. Old-ass Rockford Fosgate Punch mono-block amp (when they were still a really good brand)

6. Pioneer GM-D9500 4-channel

7. NVX Sound Dampening

8. Extended Arm rest

9. SPT Boost gauge

10. STi 5-speed shift knob

11. STi JDM NAV bezel

12. STi HVAC controls

14. STi Hazard Button

15. STi center console/shifter trim

16. STi Front seats

17. STi Pedals

Future mods:

1. Forced Performance 68HTA Turbo

2. Tomei Arms unequal Length Header

3. Either a Process West TMIC or TurboXS FMIC

4. DeatschWerks 1000cc injectors

5. DeatschWerks 65C (265lph) Fuel Pump

6. Protune

7. Side skirts and rear spats

8. Liberal Front bumper


Here she was stock.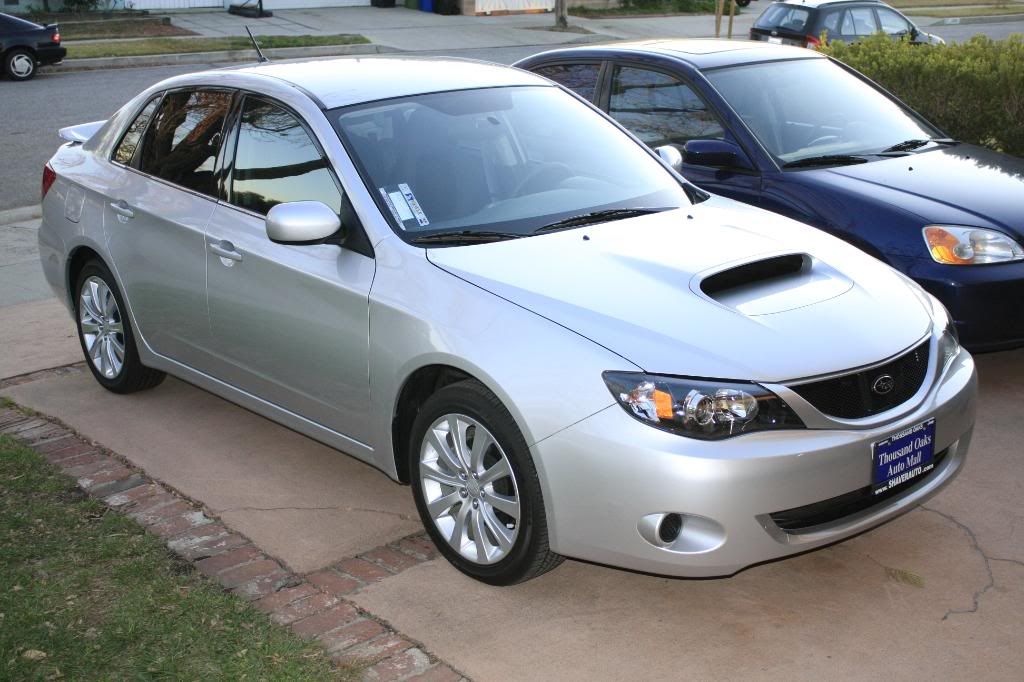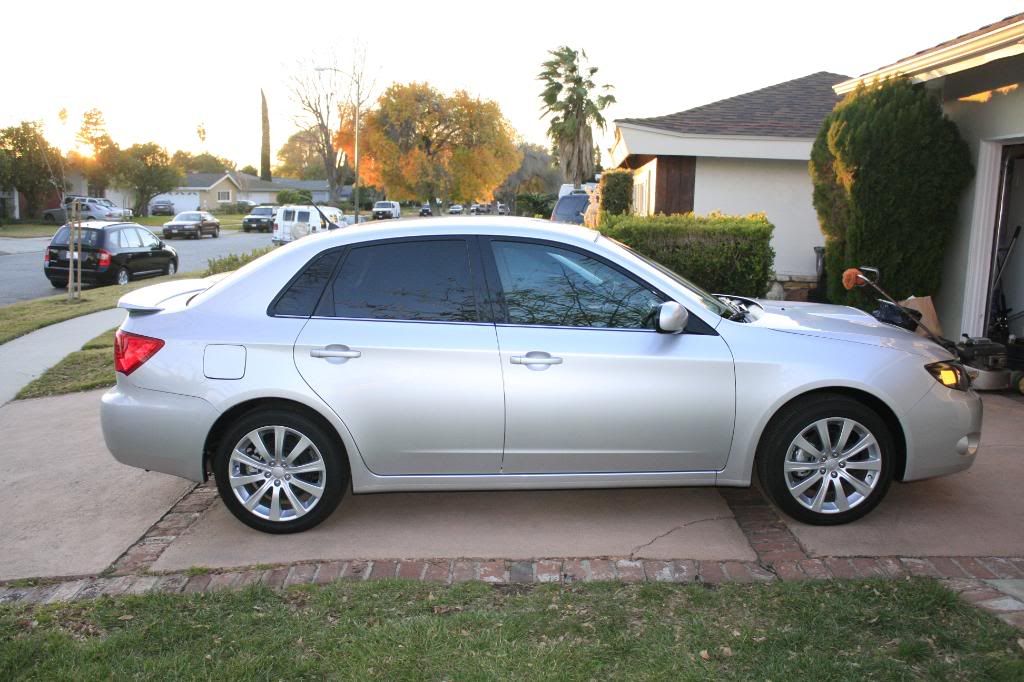 Here she is as of now with more mod's to come.